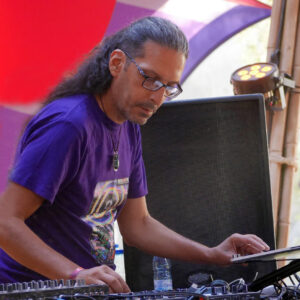 Musician, DJ, Composer, Producer, Audio Engineer, specialist in Goa & Psychedelic Trance DJ sets, playing exclusively rare and unreleased music, mainly (but not limited to) from the golden decade 1995 – 2005.
Born in Athens, Greece on 17/12/1965. Start working as a rock DJ on 1985 and played in many legendary places, including the "Obre" and "Crazy Horse" rock clubs in Athens.
He played first time "Goa" music in the summer of 1990 from cassette tapes which were brought from Goa by Teo (now owner of Disco Valley Records) and few other friends. In 1993 arriving in Goa and influenced by the new psychedelic revolution. Returning to Greece, started to collect this new music and soon began to play in outdoor parties, at first using vinyls and later DAT tapes.
Between 1995 and 2000 he played in a lot of parties, clubs and small festivals mainly to Greece, India, Thailand, Switzerland and Germany. At the same time start to produce his own music as Liquid Sun. In 2002 played in the after party of Samothraki Dance Festival and the next years, continued but mainly focused on his own music.
Between March 2012 and May 2015 he was co-manager of Space Alchemy Lab net label (founded by Oberon). The label provided 19 digital releases, focused mainly on Psy-Trance. He also involved on radio producing, making the "Tales Of Goa" series on Dice Radio, were he was mixing live every Thursday.
Meanwhile, he became a major, ever-active contributor in the popularization of the new Goa Trance movement. In 2013 created both the Facebook group "Rare & Unreleased Electronic Psychedelia 1990 – 2005" and the website of the ambitious Unreleased Goa Project, where he published countless archive pages and referenced hundreds of Unreleased Goa and Psy-Trance tracks by famous and obscure artists from the 90's to the early 00's.
Since 2014 he is an official label DJ and audio restoration engineer of DAT Records and has played at many Retro Goa & Psy-Trance parties and festivals in Greece, Israel, Belgium, Croatia, Romania, Portugal, Hungary, Sweden and Spain.
Bookings Contact: [email protected]