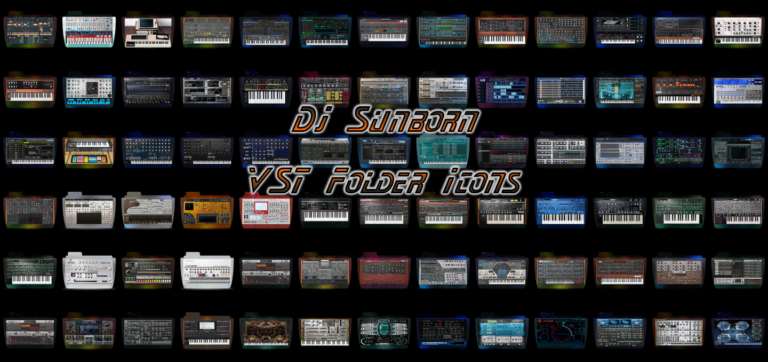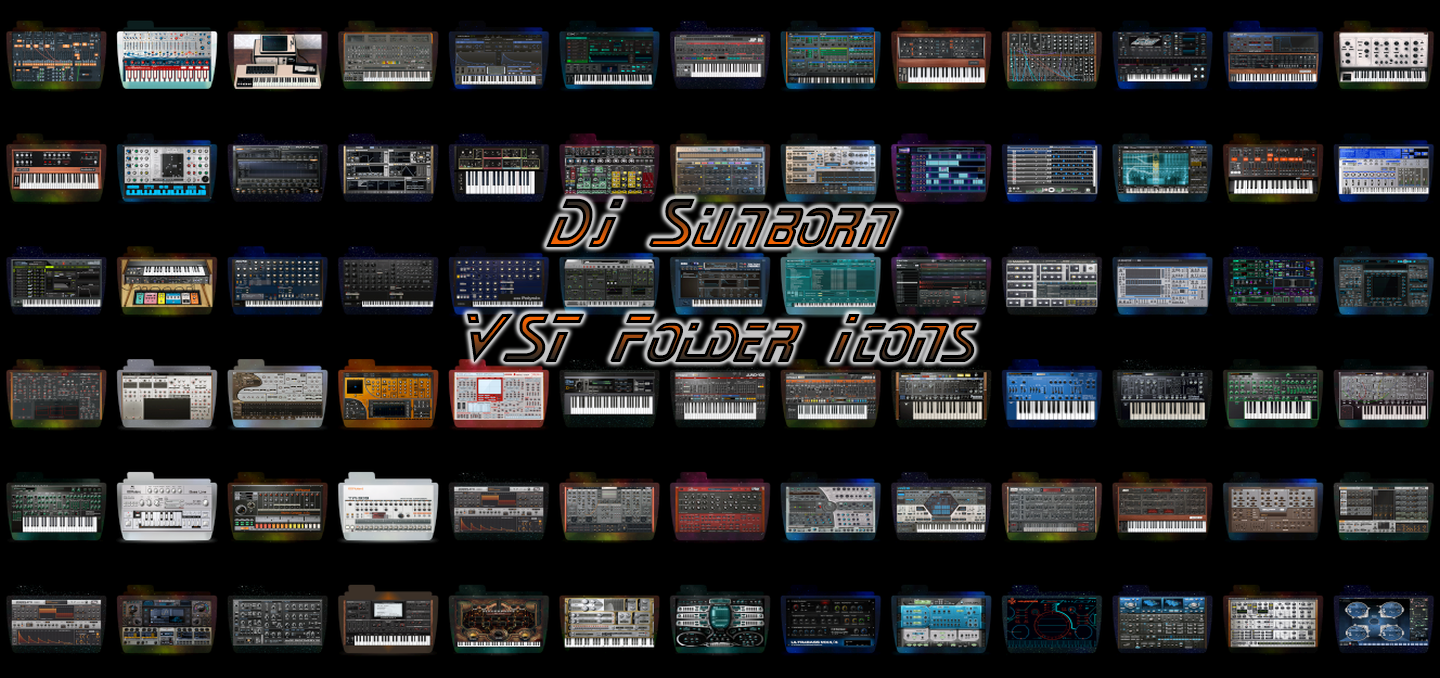 VST Folder Icons by DJ Sunborn

Copyright (C) 2021 DJ Sunborn
All Rights Reserved

*****************************************

Hello there!

This is my first graphic work of that kind. I have done graphic works in the past (including some flyers for events, some cover art for music releases and lot of web design as well), but I am not a professional graphic artist, just a "well educated amateur". I made this collection of folder icons with VST instruments and effects, out of a personal necessity (i am a musician), as i was getting really bored to see the same and the same boring Windows folders again and again.

I have search a lot and i couldn't find anything at all, apart of very few works. But those folders (though nice ones) it wasn't what i was looking for, since they only had generic symbols of the vendors and not the instruments themselves. So, i decided to make my own!
It is done well and it is really helpful for me while searching my library (i am an "optical type" person) so, since i was very happy with the results, i decided to make more (for a lot of plugins that i don't actually have) and share them for all the same minded music producers or audio enthusiasts out there.

I hope you will find it useful and beautiful too, as i do!


Thank you for checking or downloading this!

*****************************************

Package includes:

├─ARTURIA
ARP 2600
Buchla Easel V
CMI V
CS-80 V3
CZ V
DX7 V
Jup-8 V3
Matrix-12 V2
Mini V3
Modular V3
Pigments
Prophet V3
SEM V2
Synclavier V
Synthi V

├─CAKEWALK
Rapture
Z3TA+ 2

├─CHERRY AUDIO
Surrealistic MG-1
Voltage Modular

├─DMITRY SCHES
Tantra
Thorn

├─IZOTOPE
Break Tweaker
iDrum
Iris 2

├─KORG
ARP Odyssey
Legasy Cell
M1
Mini Korg
Monopoly
MS-20
Polysix
Prophecy
Triton Extreme

├─NATIVE INSTRUMENTS
Absynth
Battery
Massive
Reaktor

├─ROB PAPEN
Albino 3
Blade 2
Predator 2
Predator 3
RG
SubBoomBass 2
Vecto

├─ROLAND
D-50
JUNO-106
JUPITER-8
PROMARS
SH-101
SH-2
SYSTEM-1
SYSTEM-100
SYSTEM-8
TB-303
TR-808
TR-909

├─U-HE
Bazille
Diva
Filterscape
Hive 2
Repro-1
Repro-5
Triple Cheese
Zebra 2
Zebralette

├─VARIOUS
A1 Trigger Gate
Camel Space
Cyclop
Discovery Pro
Dune 3
Effectrix
Falcon
Fingerprint
Hybrid
Hyperion
Kawai K1
Kush Audio
Nexus
PSP Audio
Softube Modular
Synplant
Tone-2 Filterbank
Toxic Biohazzard
Ultrabass
Vanguard
Waverazor

├─WAVES
CODEX
Element
Flow Motion

├─XTRA
Drums
Rebirth
Voicemeeter
World Instruments

*****************************************

You can download it from my page on Deviant Art at: https://www.deviantart.com/djsunborn/art/VST-Folder-Icons-by-DJ-Sunborn-901403178
If you don't have an account there, you can always download it here!

*****************************************
License:

*****************************************

VST Folder Icons by DJ Sunborn is free!
However, if you feel up to, you are most welcome to buy me a coffee,
by a small donation of your own choice, here:
www.paypal.com/paypalme/sunborn

The package is provided to the user "as is".

The user is not allowed to distribute the package in any ways
without the author's explicit permission (including hosting anywhere).
However, you can make a link to the download location in your website.
It is forbidden to sale or resale this package!

DJ Sunborn takes no responsibility for any damage, which may occur
as a result of using this package!

*****************************************